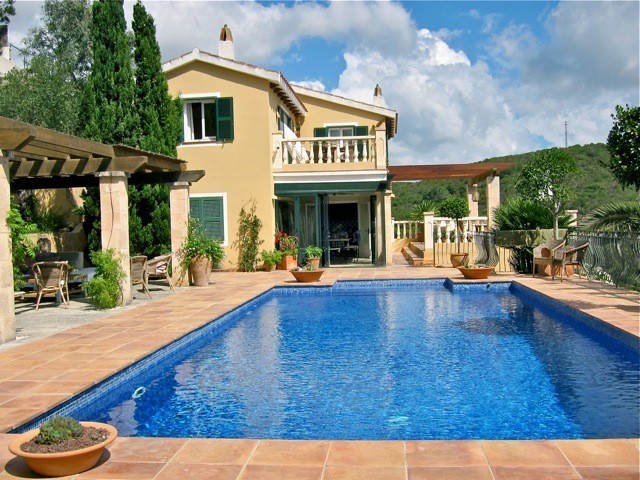 Price: £1,900 Weekly
Address: Sant Antoni
City: Mahon
State:
ZIP:

MLS #:
Square Feet: 10764
Bedrooms: 5
Bathrooms: 4
Basement:

5 Bed villa with super views of the Harbour
Villa D'Este nestles into the wonderful and most prestigious parts of Mahon, overlooking the harbor compete with the most outstanding views. The Villa benefits from a huge open terrace leading to a large pool with plenty of shade and comes complete with its own bar and barbeque area. Five bedrooms over three floors allows families to have their own space while also being able to share a huge terrace for entertaining, the two principal bedrooms also have their own terrace.
Cala Rata bay is one of the best locations on the island, its very peaceful and yet is only 15 min from Mahon.
20 Min by car for the airport.
3 rooms on suit either double bed or two singles.
terraces gardens and pool : The main living area of the villa opens up completely to the pool
terrace which is on a double plot. The space outside is excellent
because of the large area, but the house also has 3 extra
terraces so you can have privacy if you need it . We are a family of
Artists and Designers and the terraces provide wonderful scope for
painting. Your family will love it!
There is a shaded area by the pool with a treasure trove of colourful,
exotic climbers and shrubs.
There are some steps going down from the main terrace to the
next level and also from the Rd to reach the villa.
Beaches etc. and special note: The nearest beaches are at Mesquida – less than 5 minutes drive away
and providing safe bathing and also an extraordinary fish restaurant
perched on rocks with a panoramic view over the sea. To be honest,
there are loads of brilliant, quiet sandy beaches to explore. Even
during the busiest times, you can find quiet areas if you want them:
on the other hand, Mahon is a charming, bustling town for shopping and
eating out.
Shopping: Mahon is the perfect place for shopping it has a wonderful atmosphere and full of super shops, the local fish and veg market are very good and there are always good places to sit down and relax. Its about 10 mins by car.
Local super markets are close by taking about 20 mins by car from the villa