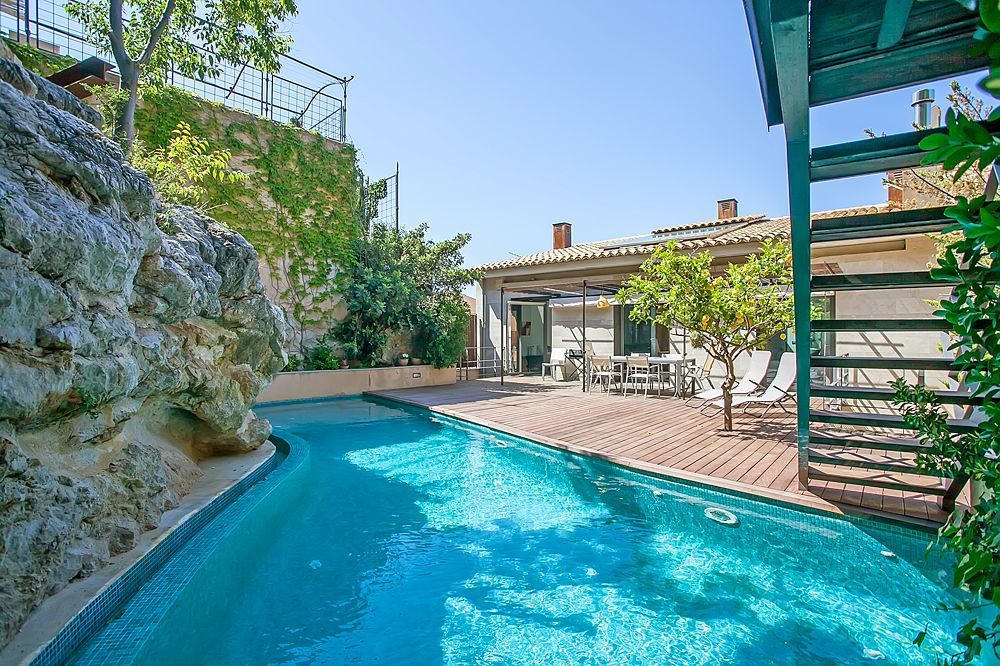 Price: £307 Nightly
Address: Alaro
City: Inca Region
State:
ZIP:

MLS #:
Square Feet: 3014
Bedrooms: 5
Bathrooms: 3
Basement:

5 bedrooms, a saltwater pool, air conditioning, heating, garage for 3 cars, elevator in the house,
Here, you can freely recharge with your family or friends your batteries from everyday stress again. Enjoy our luxury villa in hillside location on the edge Intergrated Alaros in superb village location with stunning views over the valley, Alaro and the mountains of the Sierra de Tramuntana. The villa offers all the comfort required to spend a relaxing holiday. It has 5 bedrooms, 3 bathrooms and a total of 6 toilets. Total 5 terraces invite you to relax and offer retreats in the object. The total usable area in the house is approximately 400sqm. Facilities include one for each room individually to be tuned air conditioning. All rooms can be heated individually as needed in colder seasons also. In the spacious lighted salt water swimming pool (10m) you can cool off wonderfully in the summer and in the evening we recommend a tasty glass of wine with stunning views over the valley of Alaro. Also, the rooms include satellite TV, Internet (WiFi), a luxury kitchen in which you can spend for / with your loved ones wonderful cooking evenings. Additional amenities round off your stay in the house from (ultra-modern induction system, large garage with space for 3-4 cars. A further preparation kitchen located on the ground floor., Where there is also a washing machine and a dryer. 3 The individual levels of the house can be bridge on foot, but also with our own elevator.
Take your time to take a breather and enjoy a wonderfully relaxing holiday away from the hustle and bustle of mass tourism. Palma can be reached by car depending on traffic conditions 20-25 minutes. From here you can plan also wonderful beach trips. The advantage: Whether it is the beautiful north east coast, or to the beaches near Palma does not matter. In about 30 minutes you are at the beach.
Tip: Visit the Saturday market in Alaro, or make Sunday a trip to Pollenca. A visit to the nearby family restaurants in the mountains 'Es Verger' should belong to the mandatory program.