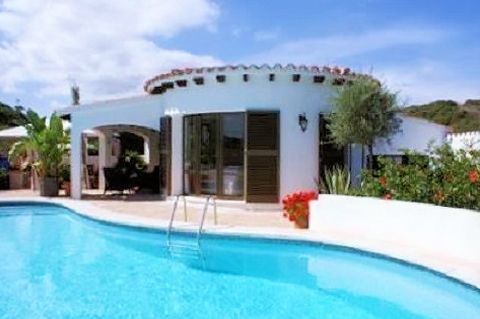 Price: £146 Nightly
Address: Es Grau
City: Mahon
State:
ZIP:

MLS #:
Square Feet: 1292
Bedrooms: 3
Bathrooms: 2
Basement:

This beautiful, Menorcan-style villa lies 2,5 km from the beach and 4 km away from Mahon. It offers breath-taking views of the surrounding countryside and a peaceful environment that will lull you into a state of holiday bliss in no-time! The living room is equipped with a high-quality sofa bed, CD-player and a satellite television.
The kitchen is fully equipped with all of the necessary items for you to prepare delicious meals and there's one bathroom with bathtub, toilet, and hairdryer, and one with a shower, toilet and hairdryer. Of the three bedrooms, two feature a double bed 140×190 cm in size, while the final one has bunk beds.
During your stay, you will get to enjoy the outdoors private swimming pool, as well as the perfect and relaxing patio, furnished with recliners and garden furniture.
Added fees include cleaning and linen.
There is private parking on site.