Ibiza is the jewel in the Mediterranean's crown but there is a secret in Ibiza and those who are in on it have the best time when visiting the white isle. It's Formentera, Ibiza's little sister is located just a short ferry ride away from the Ibiza town. It is the opposite of Ibiza, very few tourists, a calm, laid back vibe and some of the best beaches in the Balearics. Formentera is certainly worth some investment of your holiday time, this is the place to completely escape the harsh realities of daily life and really chill out. Take your shades and an attitude that you are really going to throw yourself into the big island chill in order to have the best time.
Where?
Grab a return ticket for the hydrofoil or ferry that leaves from Ibiza town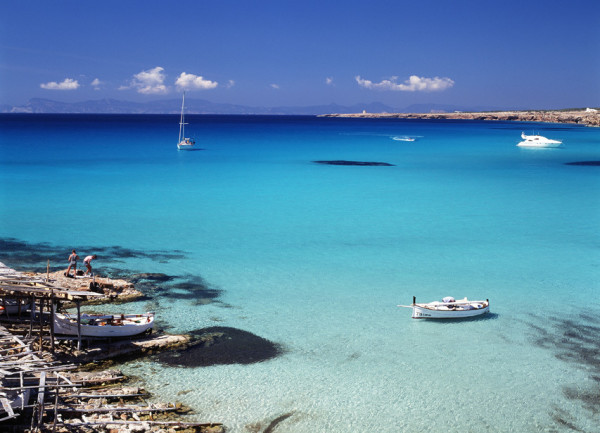 Beach Life
It is worth pointing out that if messing around on a beach is not your favourite pasttime, then you will either learn to love doing that in Formentera or you will have a miserable time. Formentera is all about the beach. This little island boasts an impressive number of completely unspoiled beaches. Think white, soft sand bordered with crystal clear warm waters that are a pleasure to immerse yourself in.
Cala Saona is a popular beach choice. Not only is it a cove beach, making the waters particularly calm here but it is also an amazing beach itself. It is very beautiful and if you take a walk around the cliff top then there is plenty of shade to be had under one of the pine trees. This is the location on the island to really understand what island life entails for the weary traveller. Grab a picnic, enjoy the view, splash in the sea and get away from it all.
Off To Church
There are a number of beautiful white washed churches that have sustained the more religious residents of Formentera. One that is certainly worth a visit is Sa Tanca Vell. This church is of miniscule proportions, it is only 5m in length, but it is perfectly formed. It was built over 800 years ago and has certainly seen some action over the years. Being so small it has the capacity to only fit 12 in the congregatio but when hiding from pirates goodness knows how many of the island's residents squeezed into Sa Tanca Vell for protection. Go and take a look, it really is a charming and historic place to visit.
Esglesia Sant Francesc Xavier is the most well known church on the island and is a pretty, yet odd example of a church that has been under attack from many pirates over the years. The canons that once protected the church are no longer in situ but you can feel the security of the church by checking out the huge doors. It is worth alook and keep your eyes peeled for the font which has a rather ugly looking bovine head attached to it!
Hungry?
Time for a Cold One 
Blue Bar is the place to continue your relaxing day. It is situated on the La Savina road, it is recognisable because of the road sign. Blue bar is well known for being one chilled place to rest and revive yourself. The music is very laidbacked and will not interfere with any conversation. The food is simple yet delicious and the beer is cold! This is a fine stop off after a busy day doing nothing.
Get your Dancing Shoes On
Remember; this is not Ibiza. There is not a huge number of clubs, packed with celebrity DJs and thousands of party goers leaping about in the foam. However, there is something truly great on Formentera. Try out the fantastic Xueno club. There is, naturally, a really cool chillout terrace and the decor of the club is a lot more sophisticated than those on the bigger island. The club is small in comparison with the Ibizian superclubs but if a capacity of around 400 floats your boat, then this really is the place to be. Occasionally, one of the top DJ's will make the journey across to the island and surprise the clubbers with a really cool set. This is where the good and occasionally famous come to play as it is discreet and undeniably cool. This is a club not to be missed.
Head for the glorious island of Formentera and find out what relaxation really means.